Product
High Gloss/Hardness Baking Enamel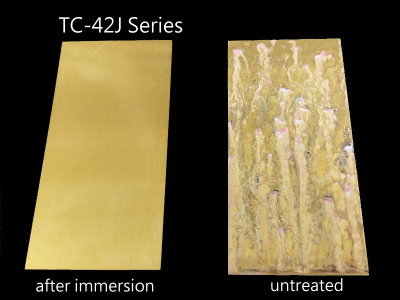 Product ID: TufKoat® TC-42J Series
TC-42J
Premium Gloss/Hardness for Copper, Copper Alloys, and Metals Plated Therewith, and characterized with:
1. Water borne, low pollution, non-inflammable.
2. High gloss, high hardness film formed thereof.
3. Protective film with high resilience and abrasion resistance.
4. A minimal 150°C temperature required for optimal curing conditions.
5. Excellent anti-tarnishing to copper, copper alloys and plated substrates.
6. Conforming to any environmental or VOC regulations.
Specifications:
| Item | Characteristics |
| --- | --- |
| Appearance: | Aqueous colorless translucent |
| Chemical type: | Modified acrylic-MF system |
| Non-volatile, 110°C x 2 hours: | 20 ± 1 % |
| Organic solvent content, %: | < 3%, alcohols |
| Specific gravity, g/ml, 25°C: | 1.11 ± 0.10 |
| Viscosity, Ford Cup #4, 25°C: | 10 ± 5 seconds |
| pH Value: | 7 ~ 8 |
| PACKING: | 20kg in plastic pails or 200kg in plastic drums |
Contact Detail
| | |
| --- | --- |
| Contact: | Ms. Chen |
| Address: | 1-1, Bengong 5th Rd., Gangshan Kaohsiung, Taiwan82059 |
| TEL: | +886-7-624-3737 |
| FAX: | +886-7-624-3736 |
| Email: | sales@allucid.com |